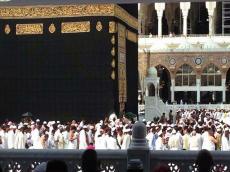 By  Trend
About 11,000 Iranian pilgrims will be in Saudi Arabia from August 17 to September 7 to perform Hajj, Ali Ghazi Askar, Supreme Leader Ali Khamenei's representative for the Hajj and Pilgrimage Affairs said on Aug. 4.
Up until now, Saudi Arabia has issued 45,000 visas for Iranian, Ghazi Askar told state TV IRIB.
Previously, Iran had announced that 80,596 Iranians would perform Hajj this year.
Askar added that about 15,000 Sunni Iranians will also perform pilgrimage.
Iranians could not perform Hajj last year.
Riyadh cut its ties with Tehran in early 2016 due to the violent protests in front of its Iran-based diplomatic mission, right after the Kingdom's execution of leading Saudi Shia cleric Sheikh Nimr al-Nimr. Since that time, Iranians lost the ability to attend the Hajj.
A year earlier, a deadly human crush had occurred during Hajj rituals in Mina, near Mecca, killing thousands of pilgrims, including about four hundred Iranians.
In January, however, Iran stated that it had received official invitation from Saudi Arabia, announcing the latter's willingness to host Iranian pilgrims.