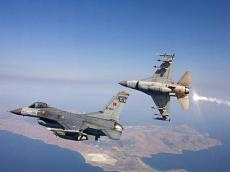 By  Trend
Turkey's Armed Forces killed 46 members of the Kurdistan Workers' Party (PKK) terrorist organization this week, the Turkish General Staff reported on August 4.
Operations against the PKK terrorists were carried out in southwestern provinces of the country.
Earlier, Turkey's President Recep Tayyip Erdogan and Prime Minister Binali Yildirim both stated that military operations against the PKK will continue until its complete eradication.
The conflict between Turkey and the PKK, which demands the creation of an independent Kurdish state, has continued for more than 30 years and has claimed more than 40,000 lives.
The UN and the European Union list the PKK as a terrorist organization.