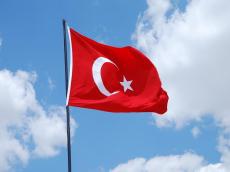 By Azernews
By Kamila Aliyeva
The decision of the U.S. authorities to introduce anti-dumping measures against the steel of Turkish production caused discontent of Ankara, which appealed to the World Trade Organization with a complaint against Washington.
Turkish Economy Minister Nihat Zeybekci named the anti-dumping investigation and introduction of additional tariffs on Turkish steel exports to the U.S. as unjustified.
Zeybekci stated the unacceptability of the position of the American authorities, Anadolu news agency reported.
Turkey already brought this issue to the World Trade Organization (WTO) for discussion two years ago and the corresponding process is underway, according to Zeybekci.
"The U.S. authorities conducted three investigations to spread anti-dumping measures to steel produced in Turkey, but could not make a proper decision. It was taken only with the fourth attempt," the Turkish minister said.
Turkey has filed a complaint against the U.S. in the WTO, but nevertheless there should not be such problems between the allies, the minister said.
"However, when it comes to economic interests, the U.S. itself supports the production of American production. For example, we are aware of the support of U.S. companies from the American Cotton Exporters Association (U.S. Cotton). We took a step back and the investigation revealed that Turkey was right in its suspicions," he added.
Earlier, U.S. President Donald Trump stated that he is considering quotas and tariffs to deal with steel dumping from China and other countries, despite warnings from economists that such an action could lead to damaging consequences.
Currently, the U.S. maintains more than 150 countervailing and antidumping duties on steel imports, including some as high as 266 percent.
Turkey's steel export to the U.S. stood at $1.1 billion in 2016, with a 7.15 percent decrease from the previous year. On the basis of volume, Turkey's steel export in 2016 increased by 2.4 percent, reaching some 16.5 million tons.
Due to the decrease in commodity prices, the total value of steel exports amounted to $9.1 billion, an 8.1 percent decrease compared to that of the preceding year.