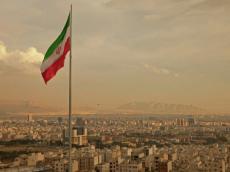 By Azernews
By Kamila Aliyeva
The European Union and Iran continue taking steps to strengthen their cooperation in nuclear area.
The importance of establishing Nuclear Security Center in Iran was underlined at the talks between the high-ranking delegation of the European Union and Iran's nuclear regulatory body, IRNA reported on July 12.
The meeting, which was attended by Head of EU's Nuclear Safety Commission Oliver Luis and head of the Iranian Nuclear Regulatory Authority (INRA) Khojatollah Salehi, discussed the creation of a roadmap for the establishment of the Nuclear Security Center.
The next joint working session will be held in Brussels in November, when the Iranian delegation while continuing the talks will pay visit to the E.U nuclear centers.
In April 2017, Iran and the European Commission signed the 2.5-million-euro project, which aims at improving the capabilities of the Iranian Nuclear Regulatory Authority by preparing feasibility study for the nuclear safety center, as envisaged by the JCPOA.
Iran and the EU also plan to set up a roadmap based on The European Atomic Energy Community (Euratom) and use its facilities in nuclear research and development, he said.
The Euratom is an international organization founded in 1957 with the purpose of creating a specialist market for nuclear power in Europe, developing nuclear energy and distributing it to its member states while selling the surplus to non-member states.
The signing of the JCPOA between Iran and global powers after more than a decade of painstaking diplomatic negotiations was a major turning point in the Middle East region and EU-Iran relations.
The nuclear deal was negotiated in July 2015 between Iran, the five permanent members of the United Nations Security Council and Germany. By ratifying the plan, Iran agreed to scale down its nuclear activities in exchange for sanctions relief.
The agreement provides that in return for verifiable abiding by its commitments, Iran receives relief from U.S., European Union, and UN Security Council nuclear-related economic sanctions.
The implementation of a project to promote technical capabilities in the field of nuclear safety and the establishment of Nuclear Safety Center became one of the main achievements of the Iranian nuclear industry after signing nuclear deal, according to the Atomic Energy Organization of Iran (AEOI).