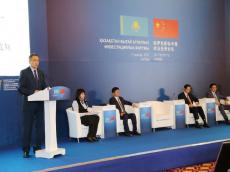 By Azernews
By Kamila Aliyeva
Kazakhstan and China have agreed to establish a model zone of agrarian cooperation in a bid to increase the level of interaction in agricultural sector.
This was stated by Kazakh Minister of Agriculture Askar Myrzakhmetov at the Kazakhstan-China Agrarian Investment Forum.
Kazakhstan is an agroindustrial country in which agrarian sector is the sphere of vital activity of the main part of the population. It is a major producer and exporter of wheat, and is one of the world's largest exporters of flour.
"The agricultural ministries of Kazakhstan and China have signed a memorandum on creation of an exemplary zone of agrarian cooperation based on the National Agrarian Research and Education Center. This will contribute to establishing joint manufacturing enterprises and promoting innovations in agriculture," he said.
The two sides inked 7 documents for a total amount of $160 million, including a contract with the Food Corporation for the supply of 200,000 tons of cereals and 100,000 tons of oil-bearing crops.
They also signed an agreement for construction of a terminal in the border area between the two countries to be used for batching the mentioned products.
As a part of the forum, Myrzakhmetov, and the Minister of Agriculture of China, Han Changfu, held a bilateral meeting as well.
Earlier, Kazakhstan's Vice Minister of Agriculture Gulmira Issayeva informed that out of 51 enterprises that China plans to transfer to Kazakhstan, six will function in the sphere of agricultural processing. The enterprises will mainly hire local personnel, but also plan to enlist the help of foreign specialists for installation works. 
Agricultural products turnover between Kazakhstan and China grew 14.5 percent and amounted to $113.2 million in January-April 2017.