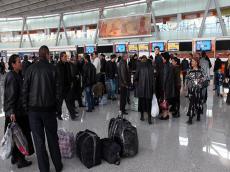 By Azernews
By Rashid Shirinov
Today, Armenia is mired in many problems –unemployment, corruption, poverty, inflation, weak economy and many others. Surely, all these affect the Armenian population, who has already tired of hard life conditions in the homeland and seeing no progress in their life.
Many Armenians, who are fed up with hard living conditions because of a low income or an absence of rights, decided to leave the country and to live a life they want somewhere abroad.
A clear example of that is Gegharkunik province that is already among the poorest and empties in Armenia. The number of Gegharkunik residents leaving abroad for work is growing every year.
Residents of Gegharkunik told Armenia's Lragir agency that about 80-90 percent of men from these villages have already left for Russia.
"Men are leaving for Russia. We borrow money here and wait for them to return and cover our debts," a resident of the Artsvanist village says.
Today, the main income of the residents of the province is the money sent by their sons or husbands from Russia.
Thus, men are fleeing Gegharkunik province due to the hard life in Armenia. Many of them got divorced and started a new life abroad; the young are leaving for Russia, get married there and never come back to Armenia.
"There is no hope – it will appear only when work shows up," the residents complain. "Just give us jobs."
Today, mainly women are engaged in agricultural work in Gegharkunik province because there are almost no men left there, residents say.
Residents of Gegharkunik province are also upset with the unavailability of agricultural loans at low rates, because lot of paperwork is required. Therefore, residents of the Armenian villages have to take other loans, which are disadvantageous and at high rates.
This is the harsh reality of Armenia – the country gets empty because of the terrible economic situation. The unemployment rate in the country is the highest among the CIS countries, making up 19 percent, and new vacancies do not seem to come up in the near future due to the wrong structure of the national economy.
Today, 228,400 economically active people of Armenia are unemployed, and this is only the official figure. Moreover, Armenians are suffering from delay in salaries, non-payment of salaries for the holiday period and unlawful dismissal.
In such a dire situation, more and more Armenians opt to leave the country rather than to remain and live a poor life with no job or prospects for a better life in future. Thus, Armenia continues to lose its population, and the government isn't able to stop this process anymore.