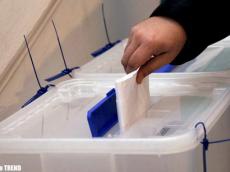 By Azernews
By Kamila Aliyeva
Polling stations opened in Iran this morning for the 12th presidential and the fifth city and village council elections, with high turnout recorded in the first hours of the vote.
Incumbent President Hassan Rouhani, Custodian of Imam Reza (AS) Holy shrine Ebrahim Raeisi, former minister of Culture and Islamic Guidance Mostafa Aqa Mirsalim and former Minister of Physical Education Mostafa Hashemi Taba are four candidates participating in the elections.
First Vice-President Eshaq Jahangiri and Mayor of Tehran, Mohammad Baqer Qalibaf were other presidential candidates who quitted the presidential race to support their favorite candidates (Rouhani and Raeisi respectively). 
Leader of Islamic Revolution Ayatollah Seyyed Ali Khamenei and four candidates for presidency have already casted their ballots in elections. 
Two main rivals in this presidential race are President Rouhani and Ebrahim Raeisi.
Rouhani remains popular for stabilizing the economy and ending sanctions through a nuclear deal with world powers. After lifting the sanctions, Rouhani visited a number of European states and made deals that worth billions of dollars. European companies started looking for investment opportunities in the growing Iranian market.
Raeisi, who is a close ally of the Supreme Leader of Iran Ayatollah Ali Khamenei, would rely on his past record in high government posts and his managerial skills to win votes. A large number of conservatives are expected to fully support the candidacy of Ebrahim Raeisi.
To win, the candidate must score more than 50 percent of the vote. If none of the applicants succeeds in enlisting the support of such a number of voters, a second round of voting will be held, in which two leaders of the first round will participate.
According to reports, over 56 million of Iranians are eligible to go to the polls. 
Out of the total eligible voters over 1.3 million are those who vote for the first time.
Presidential election is also being held in 102 countries.