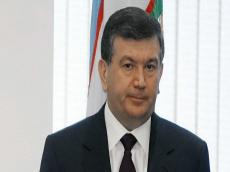 By  Trend
Uzbek leader Shavkat Mirziyoyev will visit Turkmenistan on May 19-20 at the invitation of his Turkmen counterpart Gurbanguly Berdimuhamedov, the Uzbek national news agency (UzA) reported on May 18.
President Mirziyoyev, during his visit to Turkmenistan, is expected to discuss topical issues of bilateral relations in political, trade and economic, investment, transport and communication, cultural and humanitarian and other spheres.
Furthermore, an exchange of views will be held on regional and international agenda.
The Uzbek president will visit the Avaza national tourism zone, where children from the regions of Uzbekistan, who are the most affected by the consequences of the Aral ecological catastrophe, receive sanatorium treatment.
A number of intergovernmental, interdepartmental and other documents aimed at further development of cooperation in various fields are expected to be signed following the high-level meeting.
During the visit, the two countries' business circles are also expected to conclude several mutually beneficial commercial contracts and agreements.