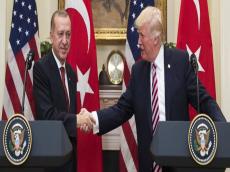 By Azernews
By Kamila Aliyeva
U.S. President Donald Trump and his Turkish counterpart Recep Tayyip Erdogan met for their first face-to-face talks at the White House on May 16 amid tensions in U.S.-Turkish relations, fueled by renewed supplies of U.S. weapons to Syrian Kurds.
Turkey and the United States are key NATO allies, but their relationship has been complicated by the U.S.'s strategy on Syria and Washington's refusal to extradite a Turkish cleric, who stands behind the failed coup in Turkey last year.
Trump's recent decision to approve transfer of weapons to the Syrian Democratic Forces (SDF) dominated by the YPG escalated this uneasy situation even more. The YPG is the Syrian wing of the PKK, which is recognized as a terrorist group by Turkey, the U.S. and EU.
Although both sides hailed the results of the talks, they made little progress to deal with their sharp differences on issues like terrorism and Syria.
At a joint news conference in Washington after the meeting, Trump expressed support for Turkey in the struggle against Islamic State and the PKK.
"Today, we face a new enemy in the fight against terrorism, and again we seek to face this threat together. The Turkish people have faced horrible terrorist attacks in recent years and even recently.  We offer our compassion to the victims, and we offer our support to the Turkish nation," Trump said.
He also voiced appreciation for Turkey's leadership "in seeking an end to the horrific killing in Syria".
While Trump explicitly called out the PKK and promised they would have "no safe quarter," there has been no indication from the White House that the U.S. will withdraw support for the YPG.
"We are committed to fighting all kinds of terrorism, without any discrimination whatsoever, that impose a clear and present threat upon our future. There is no place for terrorist organizations in the future of our region," Erdogan said in his turn.
In his speech Trump mainly focused on centuries-long good relationship between two countries, while ignoring main problematic issues in their relations including Fethullah Gulen's case.
The Turkish cleric and political figure currently lives in Pennsylvania, while Turkish officials blame him for a failed military coup last summer. The Turkish government wants him extradited to face charges in Turkey and Erdogan brought it up again while addressing a news conference.
"I have been very frankly communicating our expectations with regard to the centralized terrorist organization," he said.
This meeting appears to be an important step which shows efforts of both sides to preserve good relations despite frictions, although no concrete results have been achieved yet.
Trump and Erdogan will next meet on May 25 at a NATO summit in Brussels.