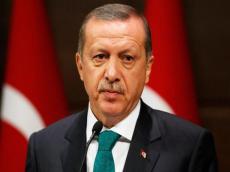 By Azernews
By Kamila Aliyeva
Turkey attaches great importance to the development of its economic and trade relations with Gulf countries and makes efforts to boost the relations.
Turkish President Recep Tayyip Erdogan has arrived to Kuwait to participate in the opening ceremony of a new airport terminal built by a Turkish firm and for talks with Kuwait's emir Sheikh Sabah Al Ahmad Al-Sabah.
The meeting aimed at further strengthening the security and economic ties that have brought Ankara and Gulf capitals closer in recent years.
Peace in the world "depends on the stability in our region", which "depends on our resolute stance", Erdogan said at the groundbreaking ceremony for the new main terminal and expansion project at Kuwait International Airport.
The $4.3 billion project was awarded to one of Turkey's largest construction firms, Limak Holding. This is the largest project to date for a Turkish company in Kuwait.
The Turkish leader also called on Kuwaiti businesses to increase their investments in Turkey from the current total of around $1.7 billion.
Erdogan is accompanied by Turkish Foreign Minister Mevlut Cavusoglu, Minister of Economy Nihat Zeibekchi, Minister of Energy and Natural Resources Berat Albayrak and Minister of Transport, Shipping and Communications Ahmet Arslan.
After a period of tension between Turkey and GCC (Gulf Cooperation Council) countries after the Arab Spring uprisings, Ankara and the Gulf states have become more closely aligned in their regional outlooks and what is needed for stability.
Turkey's security and strategic ties with the GCC are expanding along with trade. Ankara is a key member of Riyadh's Islamic Military Alliance to Fight Terrorism, and is building a permanent base in Qatar that will reportedly be staffed by 3,000 Turkish troops.
On regional issues, Turkey and Kuwait already coordinate on Syria. Turkey, Iran and Russia hosted peace talks in Astana last week that saw an agreement on "de-escalation zones" in Syria, and Erdogan reportedly sought the emir's assistance in helping finance efforts in these areas.
The volume of trade reached the $152 million in first quarter of the current year, recording an increase of 17 percent compared to the same period of last year.
In 2016, the volume of trade exchange between Ankara and Kuwait amounted to $1.287 billion, as the volume of Turkish exports to Kuwait reached $431 million while the value of imports reached $856 million.