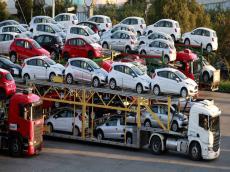 By Azernews
By Kamila Aliyeva
Turkey increased export of vehicles by 12 percent - up to $2.3 billion in April 2017, according to a report of the Association of Automobile Exporters of Turkey (O?B), Anadolu reported on May 7.
Export of cars continues to occupy leading positions in Turkey's exports.
During this period, Turkish car exports increased by 61 percent - to $968 million, buses and minibuses - by seven percent - to $140 million.
However, Turkey reduced the export of automotive products to France by 25 percent, to the UK by 11 percent, and by 20 percent to the U.S.. In April, Turkish car exports to Russia grew by 57 percent.
The export of cars to the EU, which is the largest market for Turkey, grew by 15 percent - to $1.8 billion.
The automotive industry plays an important role in the manufacturing sector of the Turkish economy. 
Turkey's automotive exports are expected to reach $25 billion in 2017.
In April, the country's total foreign trade volume soared by 8.65 percent year-on-year to reach $30.58 billion,  the report said.
Turkey exported goods worth $1.13 billion to Germany, its largest market; exports to the U.A.E. amounted to $1.2 billion while exports to Iraq were $857 million.
China ($1.65 billion), Germany ($1.63 billion) and Russia ($1.46 billion) were the main sources of imports.
On Friday, Turkish Statistical Institute revealed that Turkey's foreign trade deficit narrowed by 10.3 percent year-on-year in March to reach $4.5 billion.
Meanwhile, Turkish exports advanced 4 percent year-on-year to reach almost $11.9 billion in April on the back of performances by the steel, automotive, mining and jewelry sectors, the country's main exporters' association said on Monday.