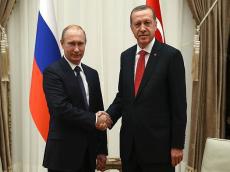 By Azernews
By Kamila Aliyeva
The talks between Russian President Vladimir Putin and his Turkish counterpart Recep Tayyip Erdogan in Sochi has served as an opportunity to assess the progress in normalization of relations, outline new goals for joint work for the future, and  exchange views on key international and regional issues.
The two leaders have agreed that their countries have overcome a period of difficulties in bilateral relations and have returned to "normal partner interaction."
"Some time ago, our bilateral relations were tested for their strength," Putin told a press conference following his meeting with Erdogan. "Now we can confidently say that the restoration period in Russian-Turkish relations has been completed and we are returning to normal partner interaction."
Before the meeting, Putin hailed the restoration of what he called "full-format" relations.
Erdogan, in turn, told journalists that he and Putin agreed to lift all remaining trade restrictions, except for a ban on imports of Turkish tomatoes to Russia.
The president voiced belief that "temporary solutions" could be found to address that issue as well.
Putin explained that "we need to consider the investor who took out loans but we will lift the ban on tomato import from Turkey once the process is concluded."
Trade restrictions and barriers lifting were discussed along with the possibility of making settlements in national currencies. The two leaders reached agreement on a number of topics such as creation of the joint investment fund of $1 billion, Turkish Stream project, Akkuyu nuclear power plant and tourism.
Russia and Turkey agree upon comprehensive settlement of restrictions in bilateral economic relations while trade in national currencies was also considered.
In late December 2016, Erdogan called on Turkey's main trade partners, Russia, Iran and China, to use national currencies as the medium of exchange for bilateral trade.
"We have decided to strengthen our trade and use our national currencies," Erdogan stated.
Moreover, Russia will invest $22 billion in the construction of Turkey's Akkuyu Nuclear Power Plant, Putin revealed.
Finally, Russian president stated that even though the visa regime will continue for a while, Russia will liberate the visa requirement for Turkish citizens but it will depend on the cooperation between the two countries' security forces.
Syria crisis
The Syrian conflict was high on agenda at the talks. The two agree that the conflict in Syria can be settled only by political and diplomatic means.
Putin recalled that efforts by Russia, Turkey and Iran put an end to combat operations in Syria and brought the authorities in Damascus and the armed opposition to the negotiating table in Astana, where much attention was paid to the struggle against international terrorism. 
"It was agreed to enhance interaction along these lines between the special services and defense ministries. In particular, inter-departmental consultations on anti-terrorist operations will continue to be held on the regular basis," he said. 
These talks reflect possible growing cooperation between nations once deeply at odds over Syria's conflict — with Turkey backing rebel factions and Russia providing key military support to the Assad government.
Russia hopes that participants in the inter-Syrian conflict settlement talks in Astana will come to a decision of setting up de-escalation zones where combat aviation will not be operating, according to Russian leader.
"About terrorists, in spite of creation of these zones the war on terror will be ongoing - against such organizations as so-called Islamic State, Jabhat al-Nusra (banned in Russia) and those ones that are put on the list of terrorist organizations approved by the United Nations," Putin said.
The sides also discussed the recent chemical attack in Khan Sheykhun.
The Turkish leader, in turn, stated that fighting terrorism is our "responsibility."
He said that certain circles spend their energy on disrupting the Astana process and "the chemical attack in Khan Sheykhun was an obvious example of that."
The Turkish President went on to add that this attack shouldn't remain unpunished.