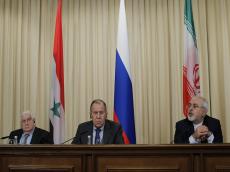 By  Azertac 
Moscow, Tehran and Damascus will continue jointly fighting terrorism in Syria, Syrian Foreign Minister Walid Muallem said after talks with his Russian and Iranian counterparts in Moscow on Friday, TASS reports.
"I'm grateful to my friends in Iran and in Russia for the support," he said.
"I confirm that we'll continue cleaning the Syrian land from terrorism," he said.
"Yesterday, we discussed with [Russian Foreign Minister] Sergey Lavrov the build-up of the efficiency of the war on terrorism, and also the prospects of the support, which Russia is providing [to Syria] in various fields," Muallem said.
"I also discussed with [Iranian Foreign Minister Mohammad] Javad Zarif the same themes today," he said.