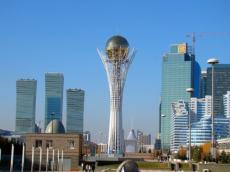 By Azernews
By Kamila Aliyeva
Kazakhstan's Foreign Minister Kairat Abdrakhmanov called on all parties interested in the settlement of the situation in Syria to support the Astana and Geneva processes.
"We urge all parties interested in the peaceful settlement of the Syrian conflict to support both the Astana process and, first of all, the Geneva process, which is being held under the auspices of the UN," Abdrakhmanov told reporters.
He expressed the hope that "all parties involved will support these processes with all the means available in their arsenal", RIA Novosti reported.
"Currently, we are waiting for further information on the meeting planned in Tehran, and then on the meeting in Astana scheduled for May 3-4 from the guarantor countries of the Astana process," Abdrakhmanov stated.
Meanwhile, Deputy Foreign Minister of Syria Faisal Mikdad told media that Damascus has not yet received information about the date of the new round of negotiations on Syria in Geneva, but expressed readiness to participate in the new round of talks in Astana, when he receives the invitation.
Earlier this year, Astana hosted three rounds of high-level talks to end the military confrontation in Syria as part of that has become known as the Astana process. It brought together representatives of the three guarantor states, Russia, Turkey and Iran, as well as the Syrian government and armed opposition, along with representatives of the UN, the United States and Jordan. 
The first round of intra-Syrian Astana talks took place on January 23-24 during which the parties agreed to create a trilateral mechanism to monitor the ceasefire in Syria, which was established on December 30.
The second round of Astana talks took place on February 15-16 and resulted in the agreement of the participants to set up a ceasefire monitoring group, encompassing Iran, Russia and Turkey, that would report to the United Nations.
The latest, third round of Astana talks which took place on March 14-16 focused on the separation of positions of terrorists and moderate opposition in the war-torn country.
Armed conflict continues in Syria since March 2011. Government troops are confronted by militants of different armed rebel groups. Russia has begun airstrikes on terrorist facilities in Syria since September 30, 2015. The Russian military involvement follows an official request from President Bashar Assad to President Vladimir Putin.
The UN has repeatedly tried and failed to end the Syrian conflict, which has killed 300,000 and displaced 11 million since it began five years ago.