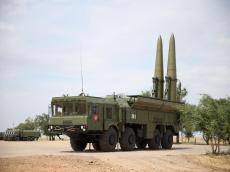 By Azernews
By Rashid Shirinov
Political analyst Justin Amler has revealed the dangers that Armenia poses to the region and world through its attempts to sell nuclear material to terrorists.
The analyst, in his article published by The Daily Caller, states that since the end of World War II, the chief existential threat facing humanity was that of a nuclear confrontation. With the departure of the Soviet Union from the world stage, the nuclear threat did not dissipate as experts anticipated, but rather it decentralized.
"Today, the existential threat of a nuclear conflagration is far more dangerous and unpredictable with more actors involved, both nation states and terrorist organizations," Amler says.
The article notes that Armenia, whose Soviet-trained scientists and engineers have the access and capability to make nukes, has purchased Iskander 9K720 missiles from Russia and advanced missiles capable of delivering both nuclear and conventional payloads.
"Another disquieting factor were the arrests in Georgia of three Armenians attempting to sell weapons-grade uranium. When one considers reports from intelligence officials that Islamic State and other terrorist groups are attempting to obtain materials to build "dirty bombs," it emphasizes the dangers of nuclear materials falling into the wrong hands," the article states.
Uncontrolled radioactive sources or "dirty bombs" can cause harm to human health or the environment, while in the hands of terrorists these sources can turn into a real threat against the whole world. Actually, the scope of the threat is daunting.
Back in 2011 Georgian law enforcement agencies arrested Armenian citizens, who were trying to sell radioactive materials and looking for buyers in this country. And recently the number of such smugglers has increased.
Azerbaijan has repeatedly warned that Armenia pollutes the transboundary rivers, mainly Araz River with the nuclear waste of the Metsamor NPP and other materials.
In terms of global security, alarm bells should be ringing, for this is not some far flung corner of an isolated part of the world, but a most strategic and vital area, Amler writes.
The author warns that if Armenia is armed with nuclear-capable missiles, and with the Nagorno-Karabakh conflict very much alive, it is a very real danger to the region as well as to the energy security of Europe.
Azerbaijan and Armenia for over two decades have been locked in conflict, which emerged over Armenian territorial claims to Azerbaijan. Since the 1990s war, Armenian armed forces have occupied over 20 percent of Azerbaijan's internationally recognized territory, including Nagorno-Karabakh and seven adjacent regions.
The UN Security Council has adopted four resolutions on Armenian withdrawal from the occupied lands of Azerbaijan, but they have not been enforced to this day.