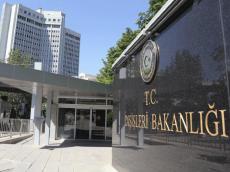 By Azernews
By Kamila Aliyeva
Turkey has sent two notes of protest to the Netherlands in connection with the recent incident concerning the blocking of visits of Turkish ministers to the country and the Dutch police ill-treatment with Turkish citizens, the Turkish Foreign Ministry said in a statement on March 13.
The first note states that blocking the visit of Turkish ministers is a flagrant violation of the Vienna Convention.
The note demanded an official apology from the Dutch government on the treatment with Turkish Family Minister Fatma Betul Sayan Kaya and Turkish diplomats who accompanied her to Rotterdam on March 11.
The second note protested against the ill-treatment with the Turkish citizens who had gathered outside the Turkish Consulate in Rotterdam, saying "disproportionate force" had been used against "people using their right to peaceful gatherings.
Meanwhile, some sources urge that Turkey is pushing for legal action against police misconduct.
Rotterdam police detained 12 protesters outside the building of the Turkish consulate due to riots. The people protested against the ban by the Dutch authorities on Turkish Foreign Ministry Mevlutu Cavusoglu's entry to the country.
Before Kaya being escorted out of the country, Foreign Minister Mevlut Cavusoglu was denied permission to land to campaign for the April 16 referendum that would greatly expand Erdogan's powers.
Turkish Foreign Ministry summoned the attorney in the affairs of the Netherlands, according to sources. It was the third time that the Dutch diplomat has been summoned since tensions broke out between the two countries after two ministers were prevented from campaigning in the Netherlands. 
Erdogan on Sunday vowed to retaliate against the Netherlands after claiming that "nazism is alive in the West." 
Earlier, Cavusoglu warned that "if the Netherlands cancels my flight, we will impose severe sanctions on them that will affect it economically and politically."