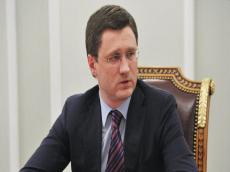 By Azernews
By Kamila Aliyeva
Russian Energy Minister Alexander Novak has revealed initial volume of the oil supplies from Iran under an oil-for-goods deal.
The volume of oil purchases from Iran within the oil-for-goods swap deal could amount to 100,000 barrels per day, and about five million tons per year, the minister said, adding that coordination of the terms of the agreement continues.
"Some 100,000 barrels per day, while per year this will make about five million tons," he said on the sidelines of the CERAWeek conference, RIA Novosti reported.
"Now we are working in this direction, we hope that it [coordination of the terms] will end in the near future," the minister said.
Iran plans to sign an agreement on the sale of 100,000 barrels of oil per day to Russia, ISNA news agency reported on February 21 referring to Iran's Oil Minister Bijan Zangane k.
The attractiveness of the mechanism for the Islamic Republic was high during the era of international sanctions as the scheme eliminated an obstacle that the country was facing in selling its oil to other nations.
The hamper was due to the fact that nearly all oil transactions worldwide are conducted in dollars, while U.S. sanctions limited Iran's access to the greenback.
In late 2016, eased sanctions on Iran following landmark nuclear agreement, allowed businesses to do dollar transactions with Iran by offshore banking institutions as long as they do not enter the U.S. financial system.
However, Novak earlier said that Russia and Iran can implement the "oil-for-goods" deal despite lifting of the sanctions earlier imposed on Iran.
Oil swaps make possible for Iran to optimize oil deliveries to refineries in the north of the country because the greater portion of oilfields is concentrated in the South Iran.
Before the introduction of sanctions, Iran was an active participant in swap operations, which began in 1997 on the basis of signed contracts. From 1997 to 2009, the total income received by Iran from these swap transactions amounted to $880 million.