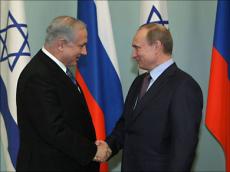 By 
 Trend
Russian President Vladimir Putin on Sunday expressed his condolences to Israeli Prime Minister Benjamin Netanyahu over the deadly truck-ramming attack in Jerusalem, Kremlin's press service said, Sputnik reported.
Earlier in the day, a truck rammed into a group of soldiers getting off a bus in Jerusalem. As a result of the ramming attack, at least four soldiers were killed and 14 others injured. The truck driver was shot dead. The police classified the incident as a terror attack.
"President Putin conveyed his condolences to the families and friends of the victims of the terror attack and wished a speedy recovery to all injured," the press service said.