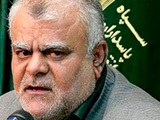 Iranian Oil Minister Rostam Qasemi has warned the European Union that its citizens will bear the brunt of the bloc's oil sanctions against the Islamic Republic.
"In the past and before the oil sanctions against Iran, we warned the countries imposing them that they themselves will be harmed by the embargoes, and, unfortunately, now the European people are living under pressure," he told reporters on Thursday in Vienna where a conference of the Organization of the Petroleum Exporting Countries (OPEC) is underway, Fars News Agency reported.
On January 23, the EU approved new sanctions on Iran's oil and financial sectors. The sanctions, due to come into force as of July 1, are meant to prevent the EU member states from buying Iranian crude or doing business with the country's Central Bank.
"We repeatedly declared that the shortage of Iranian oil in international markets will have a very negative effect on the countries imposing [anti-Iran] sanctions and can strain the market atmosphere," he added.
/
Trend
/