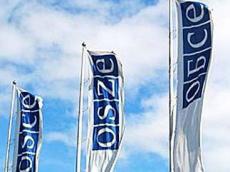 A delegation of the OSCE Office for Democratic Institutions and Human Rights (ODIHR) will visit Georgia on June 11-16. As Deputy Foreign Minister of Georgia Nino Kalandadze said, the OSCE was the first to accept the Georgian side's invitation to engage in long-term monitoring of the pre-election situation.
"A delegation of ODIHR will arrive in Tbilisi on a five-day visit on June 11, during which it will oversee the election environment and will present its assessment document to OSCE. Later, the delegation will visit Georgia during the elections," Kalandadze said.
She said within the visit, the delegation members will meet with the leadership of the Central Election Commission, representatives of government and parliament, political parties and nongovernmental organizations.
Kalandadze also said presidents of U.S. National Democratic Institute (NDI) and the International Republican Institute (IRI) are invited to monitor the election environment in the country.
/
Trend
/