Azerbaijani Foreign Ministry official: result of overcoming obstacles by first Azerbaijani diplomats was international recognition in Versailles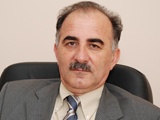 Azerbaijani Foreign Ministry is going to mark 90th anniversary
Ministry of Foreign Affairs is a vital institution in the political system of government. Without international recognition a state is not capable in the international arena, Azerbaijani Foreign Ministy Information Department head Javanshir Akhundov said.
"In this regard, I would note the importance of de facto recognition of Azerbaijan's sovereignity by European powers at Versailles on Jan. 11, 1920. Much stands behind it: selfless struggle of the people of Azerbaijan for its existence at home and aggressive policies of Armenians in the Caucasus and arrogance and lack of understanding by great powers. All these obstacles have been overcome by our first diplomats led by Topchibashov the result of which was international recognition at Versailles."
Readers can get more detailed information about it at a monography issued at the order of the Azerbaijan Foreign Ministry by professor and member of parliament J. Hasanli, he said.
The Foreign Ministry of the Democratic Republic of Azerbaijan was established at the decree of the chancellory for foreign affairs on July 19, 1919.
Anar Imanov
Day.Az