44th Munich Conference on Security Policy started in Germany on February 9, APA reports.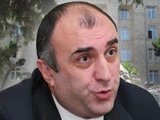 Azerbaijani Foreign Minister Elmar Mammadyarov met Lithuanian, Serbian, Moldovan and Albanian Foreign Ministers, as well as members of the US delegation.
Regional, international issues and bilateral relations were discussed at the meetings. Elmar Mammadyarov asked questions to Georgian President Mikheil Saakashvili, Moldovan President Vladimir Voronin, Branko Crvenkovski , President of Macedonia and Dmitri Rupel, President of the EU General Affairs and External Relations Council and Slovenian Foreign Minister on their reports.
The Minister noted that the resolution of frozen conflicts is important for European security. Mammadyarov gave an interview to German Fonex TV channel. The conference ended on February 10th.
/APA/