There occurred an dispute between Turkish Prime Minister Rejep Tayyip Erdogan and Armenian Foreign Minister Vardan Oskanyan, APA reports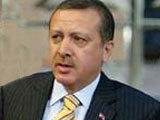 Oskanyan asked Erdogan who delivered speech in the conference why Turkey does not establish diplomatic relations with Armenia.
"There are no diplomatic relations between us. Our borders are closed. The reasons are Nagorno Karabakh conflict and genocide occurred in 1915.We are not under war condition with Turkey. Why do not we discuss these issues? Why do not we establish diplomatic relations?" he said.
Erdogan answered the question seriously. He noted that, he restored air cargo transportation with Armenia after he was appointed a Prime Minister.
"We have restored Armenian Church in Akdamar Island. There are 40,000 Armenian in Turkey now. Why do they move to my country? We have no problems with the Armenian citizens. You should answer why Armenians are moving from Armenia and several countries of world to Turkey. Because Turkey is a country of peace!" he said.
Erdogan called on Armenia to release Nagorno Karabakh.
"The whole word recognizes Armenia as an aggressive country. Leave Nagorno Karabakh! Let hundreds thousands of Azerbaijanis live there. They are also our brothers. Why do not you have forbearance for that? If you have forbearance, you will contribute to peace. Nagorno Karabakh events disclose who committed genocide and drove out innocent people from their lands," he said.
Erdogan called on Armenia to give up claims on Armenian genocide and disclose archives on 1915 events together.
/APA/