Fuad Aliyev, chairman of the Liberal-Democratic Party of Azerbaijan, held a number of meetings in Pakistan.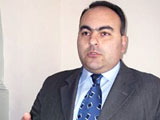 Fuad Aliyev told Day.Az upon return from Pakistan that during the visit he met with Asif Ali Ramzari, leader of the Pakistani Popular Party, husband of late Benazir Bhutto, in Islamabad. Faik Aliyev presented his condolences on Benazir Bhutto's death and handed him a book and CD-disks on Armenian-Azerbaijani conflict after the talks.
"A meeting with students has also been arranged in the Panjabi university of Lahor. The meeting participants were informed in details about the conflict between Azerbaijan and Armenia, separatists of Nagorno Garabagh and political and economic situation in Azerbaijan. I have presented several books and CD-disks about our country to the library of the University and students. Thus, the community of Pakistan learned the truth about Azerbaijan", F.Aliyev noted.
/Day.Az/