Member of US House of Representatives Shelley Moore Capito joined the Work Group on Azerbaijan, the Azerbaijani embassy to the US told APA.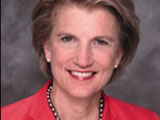 Ms. Shelley Moore Capito visited Azerbaijan along with the US delegation led by Bill Schuster.
Shelley Moore Capito is a member of the committee on financial services and committee on transportation and infrastructure.
The number of the members of the Work Group on Azerbaijan at US Congress has reached 32.
/APA/