Interest to the Garabagh problem during an election campaign in Armenia has increased due to participation of former powers in it.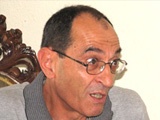 "Garabagh problem has always played an important role in the inner political life of Armenia. However, the interest to it has become more vivid as former powers appeared on the stage during the current election campaign", chairman of the National-Democratic Party Shavarsh Kocharyan announced.
He said it is caused by the fact that former powers always had pessimistic spirits  regarding Nagorno Garabagh conflict settlement.
"Definite consensus which is currently violated had been achieved on the political stage on the Garabagh issue before Levon Ter-Petrosyan's participation in the elections. For this reason the problem has been brought to the forefront during the election campaign", Kocharyan said.
/ArmInfo/