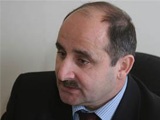 Co-rapporteurs of the Monitoring Committee of the Council of Europe Parliamentary Assembly (PACE) on Azerbaijan Andres Herkel and Eugenia Zhivkova attended the meeting of Working Group on Human Rights represented by state officials and human rights activists.
 Member of the Working Group rights defender Chingiz Ganizadeh told APA that they exchanged views on the list of 35 prisoners, ill prisoners in the 2 hour-meeting.
"We stated our position about the list and raised the issues on release of imprisoned journalists, commutation of Ganimat Zahid's sentence, and editor-in-chief of the Azadlig newspaper. State officials agreed with us on some cases. Other issues will be the subject of discussion again," he said.
Ganizadeh stated that Andres Herkel and Eugenia Zhivkova addressing the meeting stated their position on the issue.
"They said it would be better for the Working Group to have a have normal activity. We try to achieve the release of prisoners in our list," he said. He noted that there will be amendments to the 35 member-list.
"May be, we dropped some people's name from the list. We began to familiarize with their activity. We will specify the list of prisoners by the next meeting. This issue will be debated at the next meeting," he said.
The next meeting of the Working Group will be held on March 3.
/APA/