There are three provisions under which the Armenian side can pass to discussion of technical details of an agreement on the Garabagh issue.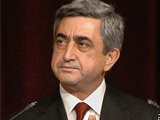 The due statement was made by Armenian Prime Minister Serj Sarkisyan.
According to him, first, Azerbaijan must recognize "the right of the people of Nagorno Garabagh for self-determination", second, Nagorno Garabagh must have a land border with Armenia and international organizations and mediator countries must guarantee the non-resumption of military actions.
"What can we discuss if these provisions are not fulfilled?", Sarkisyan noted and added that he had been speaking about it for already 13 years.
He says in its program the government has presented its clear positions on the resolution of Nagorno Garabagh problem and relations with Turkey.
/Panorama.am/