Azerbaijan's Minister of National Security Eldar Mahmudov received PACE co-rapporteurs on Azerbaijan Andres Herkel and Eugenia Zhivkova, currently visiting our country.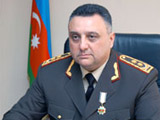 According to Day.Az referring to the press service for the Ministry of National Security, E.Mahmudov announced that there are facts according to which 4,354 citizens of Azerbaijan are considered missing and 783 people are held captive in Armenia and Azerbaijani lands, occupied by Armenians.
The Minister noted that the problem of missing people is among the main problems.
According to him, the biggest problem in this case is the occupation of Azerbaijani lands. The Minister said in some cases the captives and hostages are hidden on the territory of Armenia and separatist Nagorno Garabagh, which contradicts to the international law.
After the meeting, the PACE co-rapporteurs and people accompanying them held monitoring of the investigation ward of Azerbaijan's Ministry of National Security. They visited the medical examination room, provided with necessary equipment, sanitarian and hygienic rooms, gymnasium, library, cells, places for walking, launndry and kitchen.
Click on the photo for a larger image: