Center of Democratic Elections held a regular session in the headquarters of the Party of Classic Popular Frond.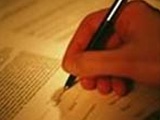 Akhmed Orudj, chairman of Azadlyg party represented in the Center, told Day.Az that the meeting participants discussed election situation in the country.
"We have heard that representatives of the Venice Commission will introduce amendments to country's Election Code. However, political parties are not provided with official information regarding amendments and alterations. However, our center considers that the parties must familiarize with the draft law before it is submitted to Milli Medjlis.  
For this purpose we plan to hold an expanded session of the Center of Democratic Elections with participation of representatives of all political structures on February 11. During it we plan to discuss forthcoming amendments to the Election Code", Orudj noted.
Chairman of Azadlyg party also added that during the session the participants also considered issue of conduction of regional sessions by the Union for Democracy.
It should be reminded that the Center of Democratic Elections is represented by parties "Great creation",  Civil solidarity, Tereqqi, Green Party of Azerbaijan, Party of Single Azerbaijan, Party of Classic Popular Front, parties which are members of the Ata bloc union, as well as Our Azerbaijan union.
/Day.Az/