Lord Russel-Johnston, chairman of the PACE subcommittee for Nagorno-Garabagh conflict, will arrive in Baku on February 7.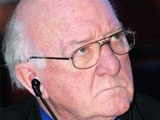 The due information was provided by a source from the CoE Azerbaijan office, Novosti-Azerbaijan reports.
The visit aims to discuss preparations for the inter-parliamentary conference on the resolution of Nagorno-Garabagh conflict, to be held in Strasbourg on April 18 of this year.
R.Johnston is expected to meet with President of Azerbaijan Ilham Aliyev, speaker of parliament Ogtay Asadov and representatives of political parties in the parliament.
Lord Russel Johnston will leave for Armenia on February 9.