Newly-appointed French ambassador to Azerbaijan Odile Remik-Adim will arrive in Baku late in March, French embassy in Azerbaijan told APA.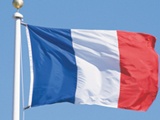 Ms. Odile Remik-Adim is a secretary general of the French delegation to the UN General Assembly.
Bernard Amaudric du Chaffaut, the previous ambassador of France to Azerbaijan, ended his diplomatic mission, as he retired on a pension. He had been ambassador from February 2006 till October 2007.
/APA/