Azerbaijan's Foreign Minister Elmar Mamedyarov met with PACE co-rapporteurs on Azerbaijan Andres Herkel (Estonia) and Eugenia Zhivkova (Bulgaria).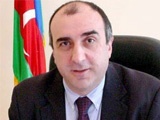 According to Day.Az, Herkel told reporters following the meeting that the meeting participants mainly discussed Azerbaijan's fulfillment of commitments before the Council of Europe and the pre-election situation in the country.
Herkel told reporters that he will prepare a detailed report on Azerbaijan upon the completion of the visit.
/Day.Az/