"Sudden occurrence of the Nagorno Karabakh conflict put the country leadership in bad conditions, and the taken measures were not effective," said the member of the former USSR president Mikhail Gorbachev's team, Professor of University of Maryland, academic Roald Sagdeev.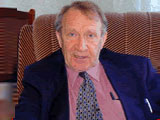 He told the APA that it could have been possible to prevent deepening of the tragedy if the conflict had been properly approached.
"Such issues don't have a distinct solution. I think multilateral format should be used in the negotiations. Besides the co-chairs, the EU member countries and Kazakhstan may participate in this process. These powers may have some influence on the settlement of the conflict," the professor said.