"OSCE Minsk Group Co-chairs, mediator on the settlement of Nagorno Karabakh conflict, are working on organization of a new round of negotiations between Azerbaijani and Armenian Foreign Ministers," Russian co-chair of the OSCE Minsk Group Yri Merzlyakov stated.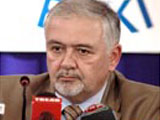 He said that next meeting between Azerbaijani and Armenian FMs may be held in the second half of February. It will depend on the schedules of the ministers. He refused to comment on their suggestion to hold presidents' meeting at the last visit to the region. He pointed out that it is necessary to continue negotiations at presidents' level.
"I think, the process will continue," he said.
When asked how Russia can suggest the application of Kosovo settlement variant to the Nagorno Karabakh conflict, Merzlyakov stated that Russia always supports to reach general agreement between Belgrade and Prishtine. Russia approaches the Nagorno Karabakh conflict in this way.
"The sides should reach an agreement themselves. It is not right to suggest them some receipts. If Serbia and Kosovo come to an agreement, Russia is ready to support the agreement," he said.
Yuri Merzlyakov noted that co-chairs' next visit to the region is possible after the meeting of foreign ministers.