"I think that the results of the activity of the Azerbaijani delegation are positive. The achieved results serve the interests of Azerbaijan," said Samad Seyidov, the Head of the Azerbaijani delegation to Parliamentary Assembly of the Council of Europe.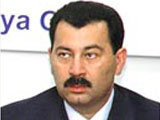 Noting that Azerbaijani delegation took an active part in the adoption of documents and in the meetings Samad Seyidov said this session was a preliminary stage for our parliamentarians to April session.
"Azerbaijan's fulfillment of the CE commitments will be discussed in PACE April session. Therefore our activity in this session, meetings, speeches, documents presented – all this was directly connected with Azerbaijan's fulfillment of commitments. So I highly appreciate our activity in the session," he said.
Touching upon the issue on inactivity of the Azerbaijani delegation especially in the discussion of Armenia's commitments Samad Seyidov said that the delegation held meetings with the CE leadership on all important questions, raised several problems and all issues were thoroughly investigated.
"The CE leadership also knows what these questions are. I can say that all the steps serve the interests of the Azerbaijani delegation and Azerbaijan," he told the APA correspondent in Strasbourg.