International mediators discussed efforts to resolve the Nagorno Karabakh conflict with President Robert Kocharian in Yerevan on Friday, ending their latest round of regional shuttle diplomacy without making any public statements.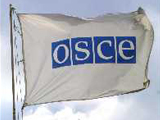 The French, Russian and U.S. diplomats co-heading the OSCE Minsk Group avoided any contacts with media before leaving the Armenian capital later in the day. They were far more talkative after holding similar meetings in Baku and Khankandi which they described as "constructive."
Kocharian"s office also gave no details of the talks. "The interlocutors discussed the current state of the Nagorno Karabakh negotiating process and exchanged thoughts on prospects for a settlement," it said in a brief statement.
The mediators looked satisfied with the results of their Thursday trip to Khankandi during which they met with Karabakh separatist's leader, Arkady Ghukasian. "The atmosphere at the meeting was wonderful, and we are very grateful to Arkady Arshavirovich," the Minsk Group's Russian co-chair, Yuri Merzlyakov, told reporters there. "We had a very substantive and detailed conversation," he said, according to Regnum news agency.
"The meeting was very constructive and creative," Merzlyakov's U.S. opposite number, Deputy Assistant Secretary of State Matthew Bryza, was quoted as saying. "We now better understand each other."
The mediators' Wednesday talks with Azerbaijani President Ilham Aliyev were likewise described as "constructive" by Bryza. Speaking to reporters in Baku, the U.S. official reportedly held out hope for the signing of an Armenian-Azerbaijani peace accord in the course of this year.
Kocharian made it clear last month that this can happen only after Armenia's parliamentary elections expected in May. There will be "no active negotiating process" until then, he said. Foreign Minister Vartan Oskanian clarified afterwards that the parties will continue peace talks "with less publicity."
The mediating troika arrived in the conflict zone immediately after attending Tuesday's meeting in Moscow between Oskanian and his Azerbaijani counterpart Elmar Mammadyarov. Oskanian told RFE/RL that the meeting focused on key specifics of the Minsk Group's existing peace plan. It calls for a referendum of self-determination in Karabakh and Armenian withdrawal from Azerbaijani territories surrounding the disputed territory. RFE/RL