Azadiq bloc made changes in its decision on rally.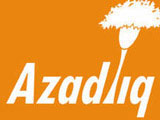 Azerbaijan Popular Front Party (APFP) deputy chairman Hasan Kerimov told the APA that the Organizational Committee on Preparation for Rally held a meeting. The decision on rally was substituted for picket.
Kerimov said that the picket will be held in three different places at 15.00. The bloc leaders will not publicize the venues until the pickets begin. Slogans on abolition of the decision of Tariff council on rise of prices for energy deliveries, improvement of social conditions of the people will be chanted during the pickets.
Azadliq bloc appealed to Baku Mayor's Office for holding rallies in Fuzuli, Narimanov, Ganjlik, Jafar Jabarli squares, Javid, Samad Vurgun, Sahil parks or outside one of the buildings of Economic Development Ministry and State Committee for Management of Public Property.