Ukrainian President Viktor Yushchenko has spoken about a number of problems in Ukrainian foreign and domestic policies in an exclusive interview with Interfax, including the upcoming GUAM Summit.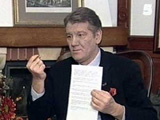 "When we speak about the region, this is slightly different. This international organization [the GUAM] does not set such universal goals as the CIS does," Yushchenko said.
The GUAM is a union of Georgia, Ukraine, Azerbaijan and Moldova. The summit of the organization scheduled for May 23 in Kyiv will decide on transforming the organization into an international structure.
The interaction on regional issues is one of the main tasks of the organization, and the GUAM copes with the task successfully.
The second task is to "conduct a more coordinated policy on frozen conflicts," Yushchenko said. "I am sure that countries that are close to these conflicts are influenced negatively in the political, economic and financial areas. In my opinion, these countries are more than others politically responsible for settlements," he said.
"The third issue is the policy conducted by participants in this political project. These are issues linked to integration processes, including in the European and Euroatlantic areas," the president said.
It is important that the GUAM member states "are drawing close to the formalization of the union," he said. "Earlier, it was likely to exist as an international project without regulations, headquarters, internal procedures, set agenda for its meetings and so on. The issues of financial security, staff, foster services and etc. were not discussed," the president said.
"The GUAM will acquire the status of an international organization at the May 23 summit in Kyiv," Yushchenko said, adding, "This is a good conclusion of the decade and, in my opinion, proof of good prospects of GUAM members in a new political and historical situation in Europe."