Opposition Political Coordination Center (OPCC) will appeal to Baku Mayor's Office about the rally fixed for May 6.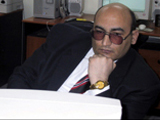 Umid (Hope) Party chief Igbal Agazade told APA that venue of the rally was discussed and a number of places were determined. The Center will propose a number of places for the rally in its appeal to Baku Mayor's Office.
Mr. Agazade said that they offers to hold the rally outside of Narimanov cinema, Khatai culture Palace, Galaba Cinema, Fuzuli Square.