All tent camps in Azerbaijan will have been demolished by mid-2007, Ali Gasanov, Vice-Premier of Azeri Government and Head of Committee for refugees and Forced Migrants told April 24, 2006 at the session of Cabinet of Ministers.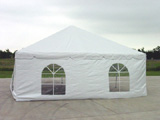 Members of Ministers' Cabinet today were speaking of establishment of new settlements for forced migrants. Such settlements will host 4,179 families of forced migrants that currently reside in temporary camps in Saatli and Sabirabad areas and railroad carriages in Imishli area.

"Out goal is to commence construction operations in late May and complete them by mid-2007," - Ali Gasanov said.
Gasanov said also 13 settlements would be established under the project in Fizuli, Bilasuvar, Agdam and Sabirabad. All the settlements will be supplied with gas, power, water, roads and other means of infrastructure; they will incorporate high-schools, kindergartens, medical clinics, administrative buildings, etc.
At the moment, Gasanov said, Azerbaijan faces the problem of mine clearing in some small section in Fizuli area. This issue, he added, is currently being checked with ANAMA, Trend reports.