Foreign Minister of Azerbaijan Elmar Mammadyarov has received delegation headed by Defense Minister of Islamic Republic of Iran Mustafa Mahammad Najjar.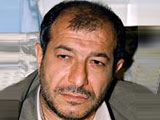 According to APA, Mr.Mammadyarov stressing friendship relations and historical, political, cultural relations between people of Iran and Azerbaijan said the presidents and foreign ministers mutual visits to be a sample of the development.

In his turn, Mr.Najjar said that he would visit Azerbaijan once again to participate in ECO meeting, as well as president of Iran will pay visit to Azerbaijan in May.
The guest said that Iran supports Azerbaijan's territorial integrity, supports its position in an international arena, and stressed great cooperation opportunities in the field of military and economic fields and significance of developing these opportunities.
Mr.Mammadyarov brought to the attention the issue of five-sided talks with regard to the status of Caspian Sea, stressed Iran–Azerbaijan talks to be of significant matter.

Strengthening of peace and stability in the Caspian Sea region is within national concerns of Azerbaijan. The guest considered importance of this issue among Caspian Sea countries through negotiations.