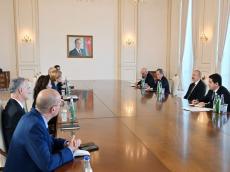 President of the Republic of Azerbaijan Ilham Aliyev has received U.S President's special representative, Administrator of the United States Agency for International Development (USAID) Samantha Power, U.S Acting Assistant Secretary of State for European and Eurasian Affairs Yuri Kim and US State Department's Senior Advisor for Caucasus Negotiations Louis Bono.
They shared their views on the present situation following the anti-terror measures taken in the Karabakh region of Azerbaijan.
The President of Azerbaijan underlined that hundreds of military equipment, ammunition and military supplies had been seized, saying military representatives accredited in the country and representatives of the UN Resident Coordinator Office had viewed the weapons and military equipment.
Noting that the illegal Armenian forces are being disarmed currently, President Ilham Aliyev pointed out that the process of their withdrawal from the territory of Azerbaijan is in progress.
The Azerbaijani President noted that the civilian population had not been harmed during the anti-terrorist measures, and only illegal Armenian armed formations and military facilities had been targeted.
Touching upon the rights of Armenian residents living in the Karabakh region, President Ilham Aliyev emphasized that like other ethnic minorities living in Azerbaijan, their rights would be ensured within the framework of the country's legislation and international obligations.
The head of state noted that a dialogue on reintegration is underway between the representatives of Azerbaijan and the Armenian residents of Karabakh.
Underlining that the work to restore the infrastructure in the area is being implemented, President Ilham Aliyev said that Azerbaijan had sent humanitarian aid to the Armenian residents, cooperates with the International Committee of the Red Cross with respect to provision of assistance.
The head of state noted that official Baku is ready to organize a trip of the UN Resident Coordinator Office accredited in the country shortly to the Karabakh region of Azerbaijan.
During the conversation, the importance of ensuring stability in the region and dialogue with local Armenians was emphasized.