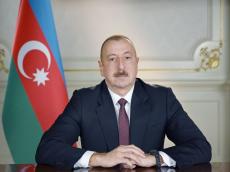 Former Prime Minister of Moldova, Member of the Nizami Ganjavi International Center, Kirill Gaburich has sent a letter to President of the Republic of Azerbaijan Ilham Aliyev.
The letter reads:
His Excellency Mr. Ilham Aliyev, President of the Republic of Azerbaijan
Dear Mr. President,
I extend my heartfelt congratulations on this historic event - the return of Azerbaijan's historical territories, a recognition celebrated by the international community. Having had the privilege of working in Azerbaijan from 2012-2015, I had the opportunity to meet numerous individuals from Karabakh who were displaced from their homes during those challenging times. I came to understand their deep emotions and the significance of this momentous return.
This development holds the promise of new beginnings for the countless refugees who were once compelled to leave their native lands. Your vision and strategic approach in addressing this formidable issue are truly commendable and will undoubtedly leave a lasting impact for generations to come.
I trust that this landmark event will contribute significantly to fostering peace and cooperation throughout the region, ultimately resulting in an improved quality of life for all South Caucasians. Your leadership and unwavering commitment to transforming this historic vision into reality serve as an inspiration to us all.
I strongly believe that with common efforts, we can create a better world for our next generations.
Wishing you and your nation continued success and prosperity along this transformative journey.
Sincerely,
Chiril Gaburici
Prime Minister of Moldova (2015)
Member of the Nizami Ganjavi International Center