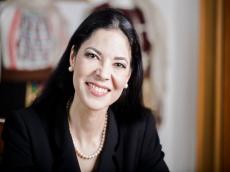 Former Deputy Prime Minister of Romania, and the member of the Nizami Ganjavi International Center Ana Birchall sent a letter to Azerbaijani President Ilham Aliyev, Azernews reports.
The letter reads:
"His Excellency Mr. Ilham Aliyev, President of the Republic of Azerbaijan
Dear Mr. President,
I congratulate you on reclaiming the internationally accepted and recognized territories of Azerbaijan and giving a chance to the region finally to step in to the new possibilities of prosperity and development of South Caucasus.
Mr. President, your vision and commitment to the development ties with EU, supporting Ukraine, respect to the nations with different cultures and religions is very important for us.
In particular, please allow me, Mr. President, to thank you for always supporting and deepening the strategic partnership between Romania and Azerbaijan, a partnership that you know it is very dear to my heart.
Looking forward to seeing Your Excellency at our annual Global Baku Forum.
Best regards,
Ana Birchall,
Deputy Prime Minister, Minister of Justice, Romania 2018-2019,
Member of the Nizami Ganjavi International Center"