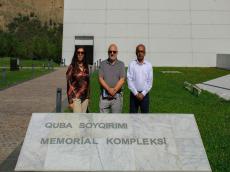 Abbas Ganbay
On September 19th, 2023, a delegation consisting of Chandra Arya, a Member of the Canadian House of Commons, Ron East, the publishing director of the influential Canadian Jewish media platform Thej.ca, and Nigar Aliyeva, co-founder of the Garabagh Azerbaijan weekend school operating in Ottawa, visited the Guba Genocide Memorial Complex, Azernews reports, citing Diaspora.
According to a report from the State Committee for Work with Diaspora, the guests wrote their heartfelt words in the memorial book, calling the March genocide cruelly committed by Armenians against Azerbaijanis as barbarism against humanity.
The Canadian delegation also visited the Red Village, where the mountain Jews live compactly, and got acquainted with the activities of the synagogues and the History and Ethnography Museum of Mountain Jews. The visit was part of the project "Informing the International Community about the Facts of Azerbaijan", organized by the State Committee for Work with Diaspora.
The Canadian parliamentarian's visit to Azerbaijan was carried out within the framework of the project "Informing the international community about the facts of Azerbaijan" of the State Committee for Work with Diaspora.
The Parliament of Canada is the federal legislature of Canada, seated at Parliament Hill in Ottawa, and is composed of three parts: the Crown, the Senate, and the House of Commons. The House of Commons is a democratically elected body whose members are known as members of Parliament (MPs). Chandra Arya is one such Member of Parliament, representing a riding in Canada.