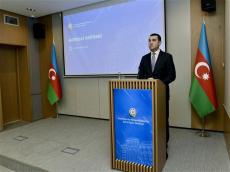 The spokesman of Azerbaijan's Foreign Ministry Aykhan Hajizade commented on the French President's statement over the meeting held between Azerbaijan and Armenia in Chisinau, Moldova, Azernews reports, citing MFA.
As is known, European Union (EU) Council President Charles Michel made a statement to the press as a result of the meeting held in Chisinau on June 1 between the leaders of Azerbaijan and Armenia with the participation of French President Emmanuel Macron and German Chancellor Olaf Scholz.
Along with Charles Michel, the President of France also released a statement to the press about the results of the meeting. We would like to know your opinion on this statement made by the President of France.
Aykhan Hajizade said that the press release on the results of the meeting between the President of the Republic of Azerbaijan and the Prime Minister of Armenia within the framework of the summit of the European Political Community in Chisinau with the participation of the President of the EU Council Charles Michel, the President of France and the Chancellor of Germany was given by Charles Michel as the organizer of the Brussels format according to tradition.
Later, the statement made unilaterally by the French President about the meeting does not reflect and distorts the position of the parties.
Unfortunately, this is not the first case of such behavior by France, and it does not make a positive contribution to the peace process between Azerbaijan and Armenia, peace and stability in the region.