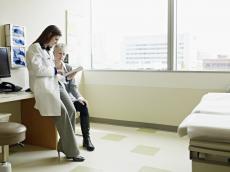 A total of 93,529 women work in medical institutions under the Administration of the Regional Medical Divisions, Azernews reports.
According to the information received from the Administration, 16,775 of them are doctors, 36,590 work in secondary medicine, 21,321 in junior medicine, and 18,843 women are of non-medical staff.
The Administration of the Regional Medical Divisions is a public legal entity that carries out management of the affiliated medical entities of the state healthcare system and supervision in this sphere.
The main objective of TABIB is to ensure the arrangement of medical services at healthcare entities and take measures to improve the quality of medical services. TABIB also aligns the activities of medical entities with the requirements of a mandatory health insurance system.