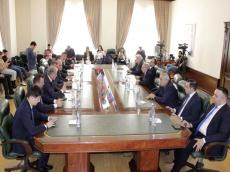 By Azernews 
The delegation of TURKPA's Environment, Natural Resources, and Health Protection Commission visited West Azerbaijan Community, Azernews reports.
Speaking at the event, the chairman of the Board of Directors of the Community, MP Aziz Alakbarli greeted the guests and informed them about the turbulent history of West Azerbaijanis, their deportation four times during the last century, and the genocides.
Aziz Alakbarli noted that in accordance with the goals of the 2008 Istanbul Agreement on the establishment of TURKPA, bringing the issue of the rights of Azerbaijanis expelled from Western Azerbaijan and their cultural heritage to the agenda of the Assembly may be useful.
Besides that, Aziz Alakbarli spoke about the goals and activities of the Community.
Then, the chairman of the Council of Elders of the Community and the Commission for Environment, Natural Resources and Health Protection of TURKPA, Deputy Ahliman Amiraslanov noted that the Community is interested in the field of activity of TURKPA.
The members of the delegation of TURKPA said that they are happy to meet the community and that what happened is a painful page for the Turkic world, and they will provide moral support to the Western Azerbaijanis in this direction.