The Baku-Tbilisi-Akhalkalaki railway road project will be constructed despite the obstacle put by Armenia, Turan Moraly, the Turkish Ambassador to Azerbaijan, told Trend.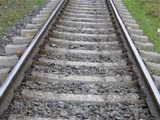 "The implementation of the Baku-Tbilisi-Akhalkalaki project is a serious issue. Armenia tries to suspend the project work. Nevertheless the railway route will be commissioned, as Turkey, Georgia, and Azerbaijan want it," the diplomat underlined.
The ambassador noted that the issue of construction of the railway road will be discussed at a meeting of the joint Turkish-Azerbaijani-Georgian commission, which will continue active work in this direction.
"The preparatory engineering under the Baku-Tbilisi-Akhalkalaki railway road construction project will be complete in 2006," Moraly said. The financing of the project will be discussed in the next stage following the development of a preliminary draft report by the specialists.
Trend